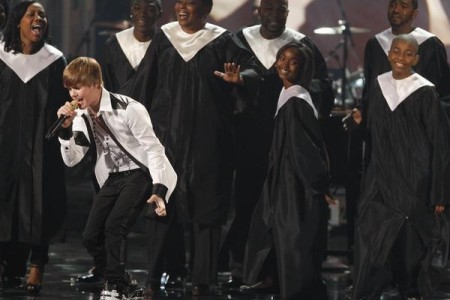 The 2010
American Music Awards
had a lot to live up to compared to last year's fan fueled party that had unpredictable stage sets by Adam Lambert and mega stars Lady Gaga and Elton John. Did the 2010 AMAs live up to the hype with its A-list line-up including
Justin Bieber
, Katy Perry and Bon Jovi? Let's just the say the past and present of music never sounded so good.
There was so much talent on the AMA stage it would take us forever to marvel over R&B hot mama Riahnna ditching her trademark short red hair for out of control curls and starting the evening with a medley of her current hits Love The Way You Lie, What's My Name and Only Girl or Latin hottie Enrique Iglesias sharing the stage with Pitbull on I like It.
How about
Miley Cyrus
ditching her body suits and making a last minute switch from Poison's Every Rose has its Thorn to a more conservative approach with Forgiveness and Love.
We wonder if a toned down version of
Miley Cyrus
will give us more water cooler talk than a racey Miley Cyrus.
It was the year of the choir as
Justin Bieber
and
Katy Perry
both accessorized their performances with soulful back up singers.
Marriage agrees with Katy Perry because she has never looked more beautiful or confident.
Detroit was up in the house representing country rock with a stellar and surprisingly soft and beautiful vocal by Kid Rock. The normally gruff rocker went mellow with his new single Times LIke These. The list keeps going with American legends Bon Jovi giving the kids a run for their money with a medley of their current and past hits including It's My Life.
Pink showed the world pregnant is awesome as she raised her glass to the AMAs! By the way, pregnancy agrees with Pink! If it was movie music you wanted,
Christina Aguilera performed
her steamy track Burlesque from, well, Burlesque of course.
The articles in this blog is usefull for you ? Click
HERE
for free Subscription.